---
---
Balanced, Fruity and Toasty
Tasting Notes: 
Appearance: vibrant pink
Nose: The nose opens with subtle toasty notes before lifting into ripe strawberries and red apples. This all trails out to almond drop and is cleaned up with citrus zest
Palate: delicate, with some subtle sweetness matched with beautiful acidity
Winemaking: 
The Langhorne Creek estate grown grapes were delicately pressed off to avoid oxidation, hard phenolics and to keep a lovely subtle colour. The juice then went through cool fermentation over 14 days to retain delicate fruit flavours. The final assemblage of this sparkling used 7% of the extended lees contact chardonnay along with 7% of barrel fermented chardonnay. Each of these parcels add complexity and extra richness to compliment the ripe strawberry flavours.
Vineyard:
Grown on estate from our Langhorne Creek Vineyard which is situated off the heavy alluvial soils of the flood plains, on shallower terrra rossa soil, ideal for precision control over water use on the vines and known to provide more structural wines.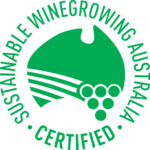 ---