---
---
Fresh and Crisp
Awards: 
93 Points - Wine Showcase Magazine
Tasting Notes:
Green apple, citrus and orange blossom opens to a creamy, generous palate backed up by a beautiful, natural acid line drawing out the finish to see you through to the next mouthful.
Winemaking: 

Picked early, to retain crisp, natural acidity along with tight citrus and minerally flavours. The juice was split into three press cuts. The free run was clarified and began ferment in tank, once through the peak of ferment, half was sent to oak. Light pressings were fined and clarified, while heavy pressings were sent straight to barrel on full solids. These different parcels were blended, and partial MLF and bâttonage were used to find balance, creating a chardonnay with tight, lean fruit that will continue to open up over time, and a complex generosity providing an approachable midpalate from day one.
Vineyard:
Grown on estate from our Langhorne Creek Vineyard which is situated off the heavy alluvial soils of the flood plains, on shallower terrra rossa soil, ideal for precision control over water use on the vines and known to provide more structural wines.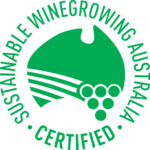 ---