---
---
Vibrant and Juicy
Tasting Notes: 
Serving suggestion: pop this wine into the fridge for 30 minutes before serving.
Appearance: Bright and vibrant ruby red.
Nose: pomegranate seeds, cherry & subtle rhubarb
Palate: Crunchy acid and juicy sweet fruits makes it feel like popping pomegranate seeds!
Winemaking: 
Winemaking: cold soaked 6 days before starting ferment, fermented on skins 4 days before draining and pressing off.
Maturation: none. Once dry, lightly fined, cold settled and put straight to bottle.
Vineyard: 
Grown on estate from our Langhorne Creek Vineyard which is situated off the heavy alluvial soils of the flood plains, on shallower terrra rossa soil, ideal for precision control over water use on the vines and known to provide more structural wines.

Harvest date: 11th March 2021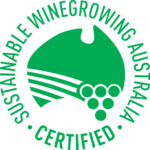 ---